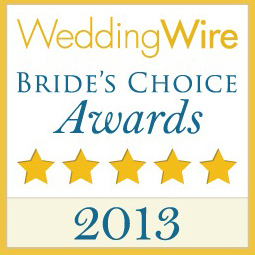 By Ryan McCrorey –  So many couples ask me in our creativity sessions about introduction music that I would love to take a little time to write about it. Many times, couples have a hard time coming up with introduction music not just for themselves, but for their bridal party as well.
The great thing about introductions is that it's truly one of the special moments where you can express yourself. I've introduced parents as they walk into the wedding reception, to everything from "Summer Wind" by Frank Sinatra to "Sexy and I Know It" by LMFAO. If you aren't sure about music for your parents, it helps to talk with them and get their input. Sometimes they may already have an idea in their head!
In general, I always find that introductions work best if you have an increase in energy as we transition from Parents to the Bridal Party and then to the Bride and Groom. Getting everyone excited about your reception and the introductions always makes for a lasting memory. This is a key moment. The part of the evening that says "Ok, it is time to have some fun and really celebrate this amazing day." High energy songs like Chris Brown's "Turn Up the Music" or Pitbull's "Don't stop the party" are great for this. Last year it was all about LMFAO's "Party Rock Anthem". Now, just because these songs are the current popular introduction selections doesn't mean you can't use older ones or even different genres for that matter. I still enjoy introducing bridal party members as they walk in to Aerosmith's "Walk this Way". That is a great example of a high energy song that does not fall into the spectrum of top 40 current radio hits.  
Another thing I emphasize is a big reason that I work here at Essential Sounds Entertainment… Customization. I spoke before about expressing yourself and I truly mean it. I have given a few examples of popular and often played introduction songs, but that doesn't mean that has to be the route that you take. Creativity sessions are so much fun with our clients because often they will come up with a song that is so off our radar simply because we haven't ever used it for an introduction. Believe me, nothing makes our night more enjoyable than playing music that we don't play often or have played at all. That's what it is all about here! Being different, being custom. When everyone rises to see your introduction and then they suddenly hear a Rage Against The Machine song for your introduction or maybe Big and Rich's country hit "Save a Horse Ride a Cowboy" there is an immediate moment of thinking "They would pick this song!" among the guests. Again, two high energy songs that immediately create that atmosphere you are looking for but are not choices that would be considered a standard introduction selection!
In the end it all comes down to personal preference. Always keep in mind that your introductions are about building excitement, energy, and expressing yourself through music in a way that your friends and family will always remember!