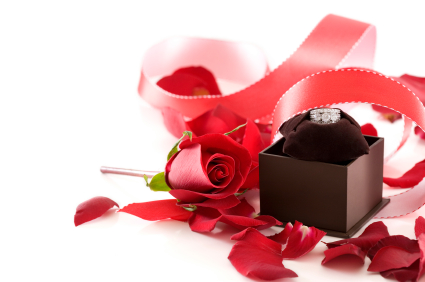 It's just after Christmas and chances are if you are hearing wedding bells going off in your head…  it's because you have just received a shiny new ring!  Statistics show that 77% of all proposals take place between Thanksgiving and New Year's Day. So now is the time where your excitement leads you into the wedding planning process. What do you book first? How fast should you lock up your location? How far in advance do you need to book your entertainment? Videography? Photographer? All of these questions are important in making sure you have little stress throughout the process of planning your wedding.
The best advice that I can give you during this process is … set priorities.  Rank your list from most pressing to least pressing.  It's not to say one thing is so much more important than another… but often one booking leads to another.  In most cases, searching for and finding the spot for your reception should be a top priority.  If you don't have a location, it means you don't have a date planned.  There would be no clear way to determine which vendors are open for your day if you have yet to lock a day up.  If you plan on getting married in a church, I would suggest checking with the church to make sure the day in which you plan on selecting for your chosen reception location is also free for the church.
I don't want to walk through what I feel are the more important aspects of the wedding because I'm sure that would lead me to be a bit biased (I feel entertainment should be a very high priority, obviously).  What I will do is suggest what type of day you are looking to have.  What do you want people to remember most?  Do you want to make sure your wedding reception is filled with action on the dance floor, along with being able to influence the music play list as much as you would like?  Are you more excited to look at awesome photos of your day and purchase them to hang around your house, grandma's house or your in-laws?  Are you someone who feels that nothing tells a story quite like cinema and therefore you are psyched to have a professionally shot and edited movie of your special day?  These aspects are all important and all deserve focus.  How much focus and therefore, what percentage of your budget, is the determination that only you can make.
By prioritizing your interests, you will naturally be able to determine what to loosen the purse strings for and which you can cut some corners on your budget with.  Every segment of the wedding industry has a high-end and a low-end for prices.  Determining where you want to spend the extra money to get the "high-end" quality and which items you can leave to the lower end side of the budget is the task you have when planning your wedding.  Everyone sets a number that they would like to fit their entire wedding budget inside of.  Ultimately, it's a guideline.  Set that guideline at a number that you can be comfortable spending but also understanding if you decide there are enhancements to each product or service that you would like to add, the price will move higher.  Weddings are expensive.  This is an inevitable fact.  The amount you spend should reflect the priority you set for that specific product or service.  Every wedding vendor would like to be priority #1 for you.  That is a fact. If they don't, it's probably not a service you want to select for your day.  The fact is, every wedding has a different set of priorities and therefore a different way of ranking which to focus on first.  Understand that if you put off one aspect of the wedding until late into the planning, there will be fewer choices available to you. This could be completely fine if you decide that the flowers aren't something you need to book far in advance or the cake you choose is not that important to you.  Most often, items of this nature are something that you can book closer to the date and still get what you want.  On the other side of the coin, if you want ultra rare flowers that you need to import from another part of the country or another continent… move that up in your priority list.  It will take longer to get those things.
In the end the priorities you set will help you set budgets for each vendor.  Being educated about why vendors charge what they do will lead you into making the correct decision for your big day.  No two vendors are the same, they might offer a similar service but they all come with varying degrees of experience, expertise and demand.  Think about what you want your day to reflect… the memories you wish to create, and start your planning accordingly!  Good luck with all of your wedding plans and if you would like more information on how we can help you plan the day of your dreams, give us a call or email us!