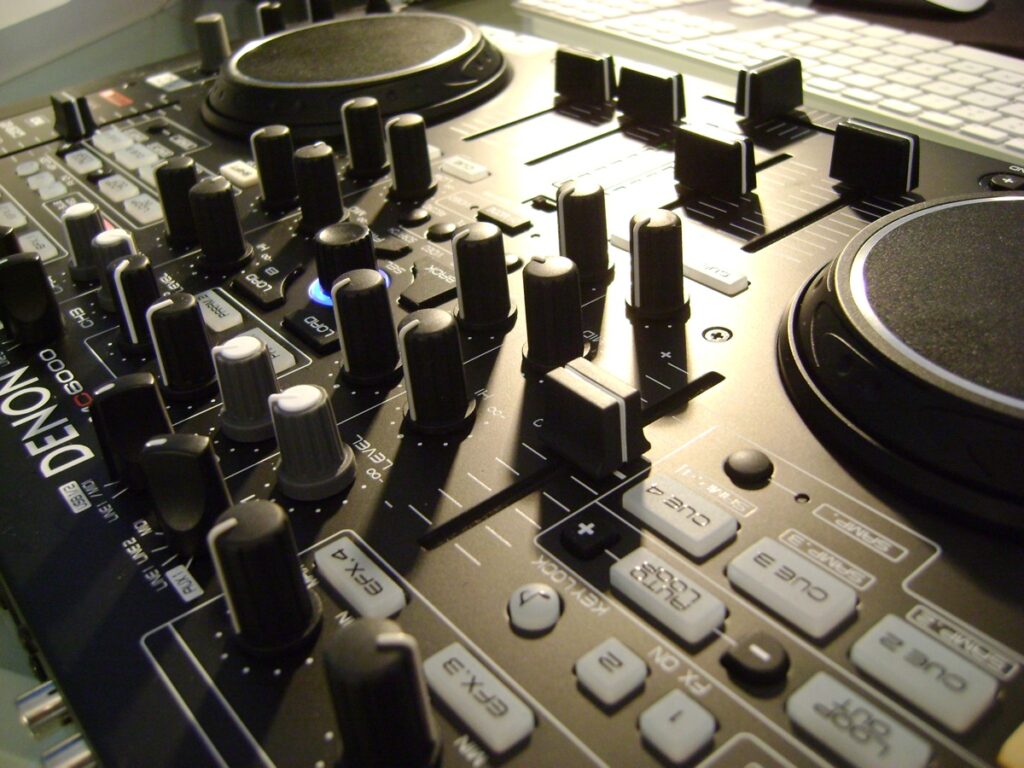 As I conducted our weekly training last night at Essential Sounds Entertainment's office I decided that we should give some focus to beat-mixing.  I didn't want to go into great detail on the who, what, where, when and how but I did want to show the guys how important a good "flow" is for a successful party.  Beat mixing is about keeping people on the dance floor.  It's not meant to turn the focus on the DJ and what he's doing.  I don't try to make it "about me".  I enjoy the art of beat mixing in the fact that it allows for a really smooth transition from one song to another… it sounds pleasing to the ear and it causes people to stick around on the dance floor for much longer.  If a dance set is riddled with breaks, drops in beat, flat parts in songs that aren't filled with a beat… it creates a feeling of the "unknown" on the dance floor.  The guests usually don't know if they will enjoy the next song that is getting ready to come on, if they will be able to consistently dance to them, one after another and ultimately it leads to a choppy, disoriented dance floor.
With that in mind, I gave my Technical Assistants a crash course on Beat Mixing 101.  We will continue with this training and expound on why it's so important, in future meetings.  One focus I wanted to instill last night was to "feel" the songs.
 I want them to understand why I choose to bring another song in when I do, how I go about finding where the beats match best and continue with the overall flow on the dance floor.  When you successfully do this… song after song, you start to create some confidence in the dance floor participants. It might be subconscious, (I am a big believer in the subconscious thought process) but you essentially will start to see people sticking around the dance floor longer because they have confidence in what you are going to play next and the ability for it to continue the flow they are already enjoying.  We practiced last night.  We will practice more. They will keep practicing at home.  It's not a concept which is taught overnight… but it does breed excitement.  Those guys leaving training last night were more pumped up than I had ever seen them coming out the doors of the office.  They ended the night with a really nice beat mix and walked out very excited for what is to come next time.
That is what this job is all about.  Instilling excitement in people.  Giving them something to smile about.  We provide that to our guests but in a similar sense, you all provide that to us.  Without your excitement, passion and love for the music, our job would be far less fulfilling.  We live to make you happy.  We strive to give you that experience that is going to make you say "wow!  That was FUN!!!"  I also walked out of the office with a sense of accomplishment last night. I succeeded in once again providing a platform for these guys to enjoy what they do, crave the continued learning process that it requires and understand that with each personal effort applied, you gain a fuller sense of satisfaction when you successfully nail a beat mix at a wedding.  It's an exciting time right now and my guys are making me very proud.  They really do want to learn and it comes across in training.  This makes me that much more ambitious for them, wanting to show them everything in my tool kit so to speak.  I have honed this craft for 14 years and I am still learning.  I go to DJ seminars, Expo events and lectures to try to get better.  These guys are looking at me in that similar fashion and I take great pride in being able to divulge all the knowledge I have accumulated throughout my years.  Without learning, we stop growing.  It's a great feeling to know my employees are as ambitious to learn I am to teach them.