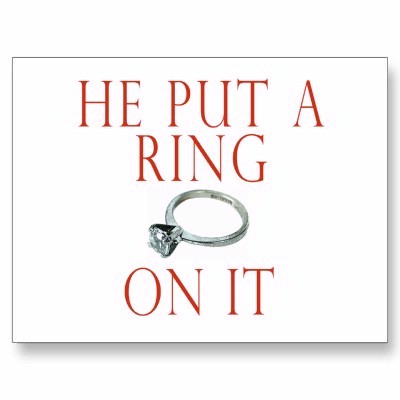 It's been a while since I've sat down and written a blog.  The past few weeks have been very exciting for me.  Since I last blogged, I have become an engaged man!  Planning the proposal, getting the ring, organizing a little impromptu get together for celebratory drinks with family and friends, all while continuing to help Bride and Grooms celebrate the happiest day of THEIR lives has been consuming a lot of time in the last few weeks.  Being a week out now from my best friend accepting my proposal to become my wife, things are definitely in a bit of a whirlwind, but in a very good way.  Prioritizing the wedding planning process is definitely underway, with us already checking out a few locations and settling in on one.  We picked out the date (11.24.12… that's right, THIS YEAR!) and are starting to lock up our professionals.  I can tell you first hand now, being in the wedding industry for now 14 years is helping tremendously with the large task of planning our big day.  It doesn't mean it will remove the stress that comes with all of this planning, but it does mean that we can round down our choices rather quickly.  Friendships I have made, networking I have done through the years and experiences I have had all play a part in our choices.
The thing is, just because I have had these experiences, it doesn't mean I want to be THE authority on it.  Jillian has never gone through this and I want her day to feel like just that.  HER day.  Whatever makes her smile, whatever makes her heart skip a beat, that's the choices that I want us to make.  I am measuring my suggestions in that very way.  I want to offer ideas without seeming pushy.  I brought her to three locations that I have great relationships with the owners and told each owner to cater as much to Jillian as they could.  Don't act like I've been there 50+ times before so therefore "I know the deal".  This needs to be as special as it can be, to her.  It's already so special to me because I'm marrying someone I am completely in love with, want to spend the rest of my life with and share in every experience, together with, in the future.   So far so good.  We picked out a location, based on many factors… but a big one was having Jillian say "It just feels right".  That's the tipping point for me.  When something screams out "YES!!!" at you, it's so much easier to be comfortable in the decision you make.
We have around 8 months until the big day.  It seems like plenty of time but as anyone will tell you, whether it's 8 months or 16 months, the time flies.  Preparation, planning and execution takes time, especially if you aim to do it RIGHT, not just get it done.  The biggest benefit to being in the industry is the fact that all of the entertainment is going to be handled by us.  I am lucky to have a very talented MC in Matt Knight whom I can trust with those duties and a few very excited, willing technical assistants who help make our job a lot easier and more fun.  Thankfully they are all willing to help make this day one to remember for the rest of our lives.  Picturing the day now from the other side of the table, so to speak, is an amazing feeling.  I've had the pleasure of planning over 1,000 weddings with Brides and Grooms.  I genuinely feel the excitement that comes from the two of them… often extremely visible in their smiles, joy and laughter while talking with them about the big moments.  Now, BEING that Groom that I so often enjoy painting the picture for, I am gaining a new understanding of just how important it is to dream, envision, get excited for and follow through with these big ideas we have.  I already see it building another level of respect and love between Jillian and I.  Her excitement is palpable.  She's definitely taken the initiative of designing her own Save-The-Date's… as well as invites.  She's extremely skilled with design and it makes her happy to produce something that people get excited about.  We have booked our honeymoon (10 days in Hawaii!!!)  and we're well on our way to booking up our professionals.
The biggest thing that I can never stress enough to Brides and Grooms is this.  Enjoy the process.  Take it all in.  This is your moment.  It's the biggest day of your life.. but more than that… it's a planning process with the one you love.  This is the person that you have decided to spend the rest of your life with, someone who completes your thoughts, makes you feel whole and whom you genuinely can't wait to wake up in the morning next to.  Be thankful.  You have a love in your life that so many people strive for.  Remember that it is a gift.  I try to remind myself of that often.  Her love is not something that I am owed… it's something that I am lucky to have.  She certainly is my best friend and I respect everything she does to make me feel like that one person she puts on a pedestal.  I always want to return that respect to her and especially throughout the planning of the wedding, I need to keep that in perspective.  Brides tend to take this task very seriously, as they should.  Grooms sometimes can get a bit careless with the smaller, minutia of planning.  Keep in mind that if it's important to her, it is for a reason… and try to help in every way you can.
2012 has been an absolutely incredible year for me in so many ways.  Essential Sounds Entertainment is taking off in a big way, Pixeladvance has gone full-bore for Jillian and we've got a third project in development that we'll talk more about when the time is right.  I am now engaged and planning a wedding that for 30 years has seemed like it might elude me while I dedicated myself to passionately celebrating with other Brides and Grooms.  I'm proud of where I've come from, where I am now and where the road ahead will lead.  It's an exciting time… and if you are currently planning your own wedding… take a few moments each day to breathe and be thankful for the privilege.  I know I try to pinch myself as often as I can.  November 24th, 2012 will be here before we know it!!!